Notice: I received this sample product through Tomoson Reviews. Opinions of product are that of my own and no other compensation is received.
I honestly do not know why I did not think of this sooner. I have been looking for a baselayer for my running that keeps me warm without having anything that is unbreathable. I used to do MMA, I used to love my rash guards. They used to be the best thing to wear pre and post workout.
So when I got the offer to do a review for the Goddess Rash Guard I was really curious how it would work.
The one thing I have to warn you about up front is sizing. I went up one size larger then I normally do because I really wanted it to be a little roomy, even though I was going to wear it under stuff. It was a little tighter then I had hoped even one size up.
But for what I wanted, this works.
The higher neck keeps heat in my neck without being overly bulky. The sleeves are long but no quite too long, they are just at the right length even for my longer arms. Its also big enough that if I need to it, I need to roll it up.
One of my favorite trails has a very challenging headwind and this was perfect to help me combat some of the winds that leave me awfuly cold. It blocks the wind and keeps my heat in at the same time. And the thing is I can do it without the bulk of a jacket. This is a huge plus because I hate bulky jackets in general, and have yet to find a piece of running wear that works.
I also like the price. You can get certain colors for right around 24 dollars which makes this such an affordable option for someone trying to keep their running gear on budget. It shipped quickly via Amazon.
The bottom line is the is a surprising plus. It works also for gym work outs when you want to stay warm in our sometimes cold and drafty. This is event a plus for burpees, because I tend to drag myself on the ground a little too much when I do burpees, and it helped me feel a tad bit more comfortable.
I will actually be ordering more soon from them.
Hey West Coast Fitness Peeps:
March's challenge is EXCELLENT!!
Your goal is to ride and reach 1,000 points by the end of march. Each ride you do has a certain amount of points based on the elevation of course, so you can choose how you tackle it. You don't have to ride a ton of longer rides, you can split it between several different rides. If you make 1,000 points you will earn the right to have the Big Wheel logo on your profile and of course if you like the t-shirt you can purchase that as well.
Even if you don't think you can ride for the 1,000 points, you can help our gym clumb up the leaderboard because literally EVERY POINT COUNTS.
This will start March 1. The graphic will tell you which rides= what points. (They all count other then the real basics). I will also drop a list off at the gym.
Good luck!
The Friday 5 Link Up that has been hot on running social media "5 Races to Run" has really got my attention and has me dreaming right now. It has me dreaming of all the races that I want to run in the future. This is the first time I ever did the link up because I wanted to throw my 5 in.
1- The San Fransisco Marathon: (July 26th) I have made no secret that after I ran it in 2014, that I have a lot of love for this race.
Last year I had the honor of being an ambassador for them and I am proud they asked me back for a second year. You can read my recap 2014 SF Marathon Recap . I will be honest, this is a tough course. It tested me and kicked my @@# hard. But it I can not explain how flat out beautiful being able to run The Golden Gate Bridge, being able to over look the ocean and all the time you spend in Golden Gate Park is. It really did teach me a lot about how tough I could be when the chips had been down. I mean, this race got so crazy for me, my water bottles started to leak for the first time in five years. But I met some of the most amazing people during the course of the race weekend, got to see things I never imagined I would see (someone ran a half marathon in bondage gear), I got hugs from random strangers, met the best #hostelrunners, and just in general had such an amazing experience. I am anxious, excited and just flat out ready to be able to try this again. I am putting everything I have towards making this my marathon PR time.
And I have a discount on this one.
You can use TSFM2015Bonnie to save 25.00 on the any of the events.
2- The Seattle Marathon (November 29th): I am not an ambassador for them. (But I wish I was) And honestly, this is the race I love to grumble about. Some of this course is really tough and the two years I have ran this it has been so cold. But it holds a special place in my heart as this is where my marathon PR is. This is a stunning course to run as it takes you through Lake Washington, you get to run on the floating bridge, and you really get to see some of Seattle's best scenery. One of my faviorte parts other then Lake Washington is getting to go in the Freeway Tunnel. You get some of the best echo's as people love to scream. What I have always loved about this race as it has always stayed affordable, I would really put near or the top of the list when it comes to being a well supported course. Every where you turn you have people cheering for you, people wanting to see you do good. On top of this, the Seattle Marathon staff is super when it comes to communication and customer service to their runners. This course is also one of the best when it comes to being slower runner/walker friendly and they even allow walkers to start together earlier to ease a bit of the congestion.
3- The Oklahoma City Memorial Marathon (April 26th): Three of my 5 marathons are from this event. And being it is my first marathon it will always hold a special place in my heart. I have said this before, I can't explain this marathon until you are there and you run it. This supports the Oklahoma City Memorial Museum and is the biggest fundraiser that the memorial has every year. This is a race you are truly running for a reason. This race starts with 168 seconds of silence to commemorate the victims of the bombing (which leaves runners in tears) , and as you go through out what is a surprisingly scenic, beautiful course you see names of all of the victims. This one also BY FAR has the best water stops. (Gorilla Hill?). The only draw back on this one is the corrals get congested. But I think a lot of this comes from everyone wanting to be so close to the action at the start. The course is beautiful, and not as challenging in comparison to Seattle and San Fransisco, but the weather can push you hard. I can never recommend this race enough to all abilities, all ages and someone who really wants to run for a reason. I promise you OKC, I will be back.
Oklahoma City Memorial Marathon
4- Vancouver USA Marathon (June 21st) : The last two years the universe has thrown me curve balls that have kept me from running this one. But I have ran the half twice, and it is always one of my favorite events. And if you ask any of my local running friends, its near the top of their must do list. The half course is scenic (other then a small trek through Vancouver industrial district) as it takes you on the Columbia River and through Fort Vancouver. I also like how the community comes out to support the event, and if you can't tell this is a common thread in races I have listed. The course has a couple rather challenging spots, but this is a good race for anyone just starting our on the half marathon trail because so many people will be out there doing this for their first one. One of the major post race benefits of this race is you also get the chance to attend the Summer Brew Fest that share the space with the finish line area that weekend for free. I mean FREE BEER? What is better then that? This one is brought to you by Energy Events, and it is a company that really does a lot to help in their local running community. In terms of local Portland races, I can't put anyone at the list higher then Energy Events.
5- Run to Stay Warm (November 22nd) : : When I am talking to friends in Eugene, this one is my favorite to talk about. Run to Stay Warm is a very small race that takes place in the heart of University of Oregon territory.
This is a half-marathon/10K/5K option that takes you through Eugene's big trail system. You spend time on the water, you go by Autzen Stadium, in some of the best parts of Eugene. The thing that always gets me about this race is every penny out of this races goes to raise funds to help people pay their heating bills in Eugene who might have challenges paying the bill. I run this race every other year (this is one weekend away from Seattle). This is another race that is very all abilities, all ages friendly. This is also a great way to break into the half marathon scene without breaking the budget as the half marathon is 35.00. This is another one where the volunteers are part of what makes it special.
Those are my five. I know I can't make running all five work this year because of the wierd financial things going on, but they are five that are special to me for all different reasons and the five I will always talk about and recommend.
And one special bonus code. How would you like to run the
See Jane Half Marathon: Seattle SJRAMB15296 saves you 25 percent on entry fees? Look for something more on this race later on.
Dear FitBloggin Family-
I miss you.
I miss learning from you. You are some of the smartest people who I have ever met, and every encounter that I have with you, I feel like I have learned so much not only about social media and being a fitness blogger. But, I learned what it is to accept myself for the crazy, determined unstoppable but kind of strange lady that I am.
I miss the heart and soul fabulousness that comes from hanging out with you. You are truly the only people who can
get me to throw my shoes off and dance (without drinking). How we can break out in laughter over the smallest of things. How I can totally forget the moves to a Zumba song and we keep going.
The last time I saw you was close to two years ago. You guys supported me through the ongoing medical issues with my father. You helped me celebrate college graduation. You gave me the confidence to do what I needed to and make Zombie Running Princess a thing and step out on my own. You got me to sing… BADLY.
Being around you guys reminds me of being with family. I miss that. I could not do Savannah because that was very costly.
It's not too hard to realize that if you have followed me for any length of time, my life right now is complicated. We are still dealing with a lot of issues with my dad. There is just no way I could afford conference fee's, the flight, a hotel (even though there are some couches in Denver open to me). FitBloggin is offering this amazing package to get to go to the conference. If I was lucky enough to end up with this in my lap, it would make my dream year complete.
Great Fitbloggin Givaway offers you a chance to win hotel, conference entry and last years amazing swag bag. This is a group of people you want to get involved with. They are the most amazing group of people that you will always learn from, and always feel part of. I highly recommend trying to make it if you ever can. You will truly feel welcome, and you will learn so much as a blogger.
I will admit it.
Girls Run Fast has some of the cutest stuff on the planet. I am planning on a new necklace to celebrate my 6th marathon.
But it looks like I will be getting a second one.
Girls Run Fast will be presenting their first event in the Phoenix area November 22nd. For those who are not in the Phoenix area there will be a virtual option.
Girls Run Fast is one of the companies that have believed in all I have been trying to accomplish. Even when I am one of the slower runners. I can not wait to see what they have in store for this event.
Sometimes the smallest of events can bring the most meaning to you. The Celebrate Silas run which takes place this year on March 29th is one of those events.
I learned about this event last year through one of my dad's nurses. I went into this one not know what to expect and now its quickly becoming one of my must run events every year.
The Celebrate Silas 5K is in honor of Silas who passed away of Sudden Infant Death Syndrome. This year he would of
turned 5 years old. After his passing his family received help from the Dougy Center. The ability to reach out to other grieving families helped them so much through their loss. The Dougy Center,provides support in a safe place where children, teens, young adults, and their families grieving a death can share their experiences.
They provide support and training locally, nationally and internationally to individuals and organizations seeking to assist children in grief. They are supported solely through private support from individuals, foundations and companies. The Dougy Center does not charge a fee for its services.
Every year since his passing have gotten together every year to celebrate Silas, and others who have passed to not only honor memories but raise awareness and funds for the Dougy Center. The group has grown in the past couple years as friends and family have passed the word on. Last year they raised 6,000 dollars for the center.
This is an un-timed event that just stays on the sidewalks of SE Portland. A lot people will take a side trip to the Crystal Gardens in the middle and leave flowers on a bench that was placed in Silas's memory.
This year their goal is to raise 10,000 dollars for the Dougy Center. I would really like to see them do it. Your 25.00 includes a t-shirt and a great memorable event.
The start line will be at Duinway School in Portland. After the event you can stop back there for water, last year they had cake. Also, last year the Portland Fire Department brought out one of their fire trucks.
More Details
Celebrate Silas 2015
Duniway Elementary School
7700 SE Reed College Way
Portland, OR
March 29th 2015 9:00 AM
You can find more information and register here:
Celebrate Silas
I have a bunch of business stuff to write soon,but something that was said to me has got me a little crazy.
Some one sent me an email telling me
"You are not a healthy inspiration, you posted photos of Dairy Queen on your instagram, you are posting beer, you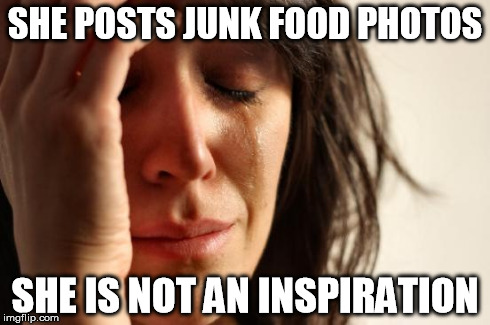 are posting junk food" "You should get off social media"
Your point is?
I have never said this is a healthy inspiration blog. The goal of my blog has been to be my chalk board about things that are working for me, things that are not working for me. Things I just need to get off my chest. Things I need to communicate out with others ect. There are days I will be working on this so fast that I might miss something in grammer, puncuation, spelling ect.
When it comes down to it my weight loss journey has evolved a lot in eight years. It is flat out not about loosing weight anymore. My doctors tell me I am at a healthy weight even though the BMI says I might be a little big. (I am actually right at 25) Yes, I did get down to 130 for a time. But I should of NEVER been then low. I was not healthy physically or mentally. I had no balance in my life because I was always driving myself crazy being focused on the numbers. And I was not strong. I had no energy, no desire to get up and do anything.
Yes, occasionally I like to walk up to my local Dairy Queen and have a chili dog (for the record the owners make the best chili dogs they are like the ones your parents would make for you when you are kids). My mom and I enjoy a trip to Red Robin on Friday nights after seeing my dad. (Thats our time together to talk, catch up from our crazy week and really be there for each other). I may split a cinnamon roll from the coffee shop down the street with my best friend. Occasionally I like a glass of wine or beer. I like my coffee a lot. I crave a ton of salt during my period.
But I have learned if I stress myself out over the occasional treat. I am going to go bat-#@%$! crazy. It is not worth it.
Yes, I could probably be a faster runner if I would not have those treats. I would be thinner.
Yes, I could be a faster runner if I spent more time at the gym or on the road (for the record I work out 5-6 days a week as it is, I just don't talk about it all the time, you don't need to know about every workout). But helping my mom through my dads health issues, working on my non-blog business, doing everything I do in social media, trying to figure out if I can go back to graduate school. I just flat out don't have enough hours in the day. To me, it has always been about making the best choice I can in the moment while focusing on my goal of living me.
Yes, I don't race as much as I used to. If you follow me for any length of time you know that my life is complicated. I do not have the money or time to race as much as I want. There are things going on outside my control. It won't change the fact I love running, running is my thing to get me away from my chaos.
Yes, I have had a few companies that have believed in me and believed in what I am trying to accomplish (I have always said its living in the real world) and have backed me up. I am honored that they have and I really appreciate everything they have done to let me share my journey.
But because I am flat out honest and confess that I am not perfect. That I am just a women trying to live her life and her journey. More often then not, I get rejected. Those rejections suck, but to me I would rather fight for being me then anything else.
The thing in all this. My life is not perfect. But I am happy. I am happy with my body. There are changes that I would like the make in my life and I am always working on those every day. This blog will never be a full on healthy inspiration running blog. There might even be some more professional wrestling posts in my future.
All this being said, if you have come here to follow my crazy journey, you are welcome. If I can say anything, I am going to say this. Live you. That is my goal always. If that inspires you; that is the best thing I can ever hope for.
Note: I received this to try via Tomoson.com no other compensation was provided. These options reflect my own expereinces.
I have had the hardest time finding a holder for my phone that fits around my arm. I have bigger arms in particular
so they tend to either cut me off, or just in general are not a good fit. On top of this with a Windows Phone you have to find something that fits another phone that will work.
I got the chance to try the i2 band which is for Iphones. A lot of Iphone products work for Windows phone, but I still was skeptical.
What I like about this is it fits well on the arm without feeling like its cutting me off. It does not bounce which has been a challenge for me for some phones. There is also a place that you can stash a credit card (if you throw it behind the phone. It kept my phone cozy and safe while I run. There is also reflective material which makes it good for the dark rain. Also, its really good for my bike time. It stays put and does not move.
The only downside I have and for me this is a big one, is the key holder. The key holder is smaller then you would ever expect and does not fit any of my keys which means I am still keeping my keys on me when I run. But in the long run it still does not keep it from being a good answer to the need of a good phone holder.
This is a great option for runners who are looking for a good fit to keep their phone safe.
You may check it out here Best Running Armband
Allright. I have been a little swamped and overwhelmed with some things as of late and I have not had time to post it.
This challenge starts February 15th 2015. We are set up to participate.
Because of my Seattle Humane Society fundraiser work, I am not going to be fundraising on this one actively. But I am available to help and answer questions. Also, if you are interested in a group t-shirt order. Please leave me a message here and I can do one for you. I will be riding as always.
I really wish I could do this race, as its one of my favorite races every year to do. But for the last two years there has been issues in the middle of October that have prevented me from running it. (That and this year I will just not be able to afford every race I want to do.)
This is also where my 1/2 PR is.
Anyhow, check out the email I received. If you are looking for an amazing event to start a running journey on, I can not say enough good things about this. It will take place Sunday October 11th in Vancouver Washington.
The 9th Annual Girlfriends Run for a Cure is a Quarter Marathon (6.55 miles) and a Half Marathon (13.1 miles) designed specifically for women to get together to do something good for themselves and to help support a very important women's cause.
We started this event to honor and support one of our BFFs, Joleen Skarberg, who was diagnosed with Breast Cancer and continues to run it every year with her daughters, sisters, nieces, cousins and girlfriends! Watch for her – she'll be wearing #1!
About half the gals run, half walk and many do a combination of running and walking. It doesn't matter how you get to the finish line, as long as you get there!
So tell all your girlfriends, recruit & inspire them and together have fun and help raise funds for Breast Cancer Research, Care, Treatment & a Cure. This Half and Quarter Marathon walking and running event is designed specifically for women including awesome women's technical shirts, cool medals, chocolate, massage and firemen waiting for you at the finish line! It's a fabulous Girl's weekend plus the more people who participate, the more money we can raise!
Event details and schedule
General Event Details:
Date: 10/11/2015
Time: 9:00am sharp – Please show up at 8:30 at the latest to get organized and ensure we start on time.
Description: The Girlfriends Run for a Cure has raised nearly $350,000 over the last 8 years!
The 9th Annual Girlfriends Run for a Cure is a Quarter Marathon (6.55 miles) and a Half Marathon (13.1 miles) designed specifically for women to get together to do something good for themselves and to help support a very important women's cause.
We started this event to honor and support one of our BFFs, Joleen Skarberg, who was diagnosed with Breast Cancer and continues to run it every year with her daughters, sisters, nieces, cousins and girlfriends! Watch for her – she'll be wearing #1!
About half the gals run, half walk and many do a combination of running and walking. It doesn't matter how you get to the finish line, as long as you get there!
Tell all your girlfriends about this event so you can all have fun together. Plus the more people who participate, the more money we can raise for Breast Cancer Research, Care & Treatment.
How do you describe your best girlfriend? You love to hang with her – no matter what you're doing. You can tell her anything without judgment. She inspires you to do and be better. She lifts you up and empowers you. She helps you to see the bright side when you're going through a tough time. You can laugh and cry and sometimes just do nothing with her. So who is your best girlfriend? Is it your mom, your sis, your daughter, someone you've known for years or someone you just met recently? One thing is consistent – it's someone you connect with on a deep level, a soul sister. And bottom line – when girlfriends get together they can accomplish anything! There's nothing better, more beautiful than a bunch of strong, powerful, passionate women on a mission! And that's why collectively, as a group of determined gals, we can make a difference in the fight against breast cancer. Plus when you cross the finish line, you can't imagine how that positively impacts YOUR entire life. The sense of accomplishment you will feel is unbelievable and it will provide you with the strength and confidence to conquer anything in your life. So – "Go Girlfriend Go Girlfriend Go!"
Registration Details: Girlfriends Half Marathon